The day you were born it was raining because the heavens were crying that they lost an angel.
4
x

3
x

7
sunny welenya
posted 8 years ago by sunny welenya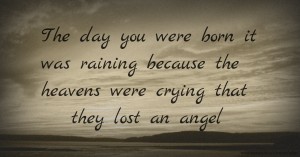 Pin it
Previous text message: "If only you could jump out of my mind and wrap your arms around me each time I think of you. That would be the day I say dreams do come true I Love You Babe"
Next text message: When I think of you I smile, and when I smile I think of you. I don't know whether it's the thinking that makes me smile or the smile that keeps me thinking."