When we first met, we were total strangers but now I feel I know you more than anyone or anything in the world. You're my lover, my best friend.
136
x

22
x

158
sairah
posted 6 years ago by sairah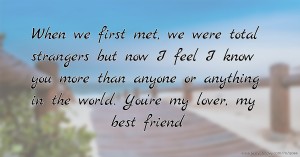 Pin it
Previous text message: "Your highness, queen of my world! You're the most incredibly gift of GOD I've neva imagined I could have in my life. 143 IRREPLACEABLE: @AJUKE MI!:-*"
Next text message: What is Love?? Well, I can't explain much but I know Love is what I have between me and you, my baby.<3"