When I look at your pretty face my eye told me I can't love you but my heart says you are the one I love... which makes me cry because my eye's lying to me!
5
x

2
x

7
henry ryneh fle...
posted 9 years ago by henry ryneh flexzy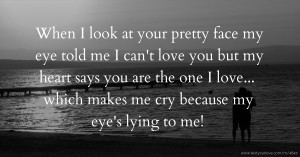 Pin it
Previous text message: "I used to think no girl is worth my tears.. But when I met you, I realized ''no amount of my tears is worth you''."
Next text message: Love is not a word to say. Love is not a game to play. Love doesn't start in April and ends in May. Love is yesterday, tomorrow and forever."