I can be Burger King, you can be McDonalds. I can have it my way, and you can be loving it, bahh daah bahh bahh!
26
x

5
x

31
fast love
posted 6 years ago by fast love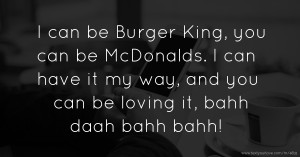 Pin it
Previous text message: "I fell in love with you. Not just once. But everytime time i look at you i fall in love all over again. You make my heart skip a couple beats."
Next text message: If you read this text you owe me a hug, if you ignore you owe me a date, if you delete you are mine but if you reply I am yours forever, so what will it be?!"