If I die early I would ask God if I could be your guardian angel, so I could wrap my wings around you and embrace you whenever you feel alone.
201
x

34
x

235
Valentine
posted 10 years ago by Valentine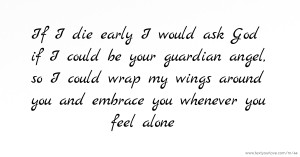 Pin it
Previous text message: "A love like ours only happens once in a lifetime!"
Next text message: Here is my heart, it is yours so take it, Treat it gently, please do not break it. Its full of love thats good and true, So please keep it always close to u."