1000 words 1 could say, 1000 wishes 1 could pray, 1000 miles legs could walk, 1000 sounds a mouth could talk,1000 times I'll be true, 1000 ways to say I love you!
98
x

21
x

119
DOTDAM
posted 7 years ago by DOTDAM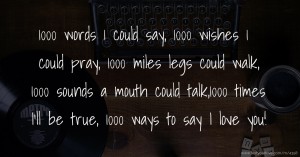 Pin it
Previous text message: "Close your eyes, hug the air. Listen to your heartbeat. I'm there in front of you. Hugging you back, listening to our heartbeat as one."
Next text message: I may ran out of msg 2 text u.i may run out of jokes 2 I may also run out of battery but my heart wl never ran out of space 4 u coz i wl alwy luv u.my heartbeat"