I drop my tears in the ocean, the day I will find it, that day I will stop loving you.
3
x

3
x

6
rolling love
posted 10 years ago by rolling love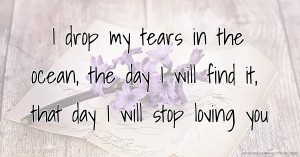 Pin it
Previous text message: "Falling in love is like jumping off a building. Your head says "idiot your gonna die" your heart says "don't worry pretty girl you can fly.""
Next text message: Someone told me to follow my heart and every day i end up metting you. Maybe your the reason my heart gets so happy..."