You are the peanut to my butter, the fruit to my punch, the pop to my tart and the beat to my heart!
4
x

1
x

5
cupcakeGirl
posted 9 years ago by cupcakeGirl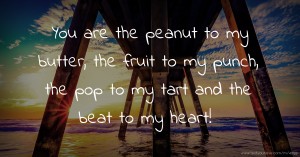 Pin it
Previous text message: "You're so cute, I feel like... I could sacrifice you to the dark lord Satan, drink your blood and use your skull as a cereal bowl. <3"
Next text message: I want to get a rock that says I miss you and throw it to your face to see how much it hurts missing you"