To the World U're one person, but to one person U're the world. U're My World Babe.
31
x

6
x

37
Jossy-Jazz
posted 9 years ago by Jossy-Jazz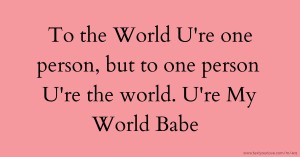 Pin it
Previous text message: "If you ever ask me how many times you've crossed my mind, I would say once. Because you came, and never left."
Next text message: I wish i colud turn my flesh to paper, my bone to a pen, blood to an ink and write to you how lucky i am to have u as my love"