Always express urself to some1 who cares for u, not to some1 who needs for u , because care means prsnl comitmnt need means prsnl requirement .......
3
x

1
x

4
manali boy
posted 7 years ago by manali boy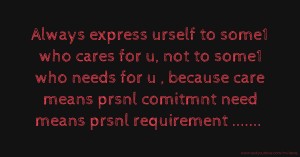 Pin it
Previous text message: "I've dropd a tear in da ocean,nd da day i'll find it,it's da day i'll stp lovin u"
Next text message: Beautiful is ur name. Wonderful is what u are to me. Is u I see in my dreams. Everyday I pray for. Queen of my life, my heart beat for u. I £¤¥(_) u much."