My love for you is a journey, starting at forever and ending at never.
145
x

34
x

179
Kennedy kay snow
posted 6 years ago by Kennedy kay snow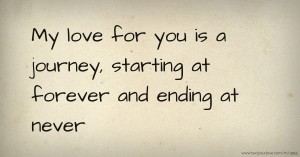 Pin it
Previous text message: "Do you in love at first sight or I have to walk by again?"
Next text message: i love u bafedile thakadu and i swear it's true i cannot live with out u and i'll always love u until the end of time"