I don't want anyone else to have your heart, kiss your lips, be in your arms, be the one you love. I don't want anyone to take my place.
260
x

70
x

330
Tesqueen
posted 6 years ago by Tesqueen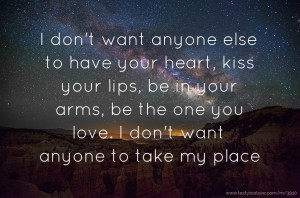 Pin it
Previous text message: "Just promise me that you'll think of me everytime you look up in the sky and see a star in the sky<3!"
Next text message: I think I love some1 no doubt it is YOU"