I don't care how many lips you have kissed, how many shoulders you've embraced and how many times you've said "I Love You". All I care about is being the last.
36
x

8
x

44
Kennedy kay snow
posted 7 years ago by Kennedy kay snow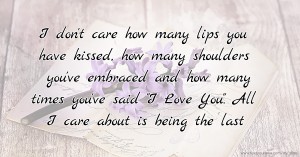 Pin it
Previous text message: "It must be a rainy day when you were born, but it wasn't really rain; the sky was crying because it lost its most beautiful angel......."
Next text message: Some people search forever for that one special kiss;can't believe its happening to me."