My Silence doesn't mean I'm gone. My quietness doesn't mean I'm dead. But deep in my heart, anywhere & anytime u r always remembered, cared, loved & missed.
170
x

31
x

201
Dennis Nyoike
posted 7 years ago by Dennis Nyoike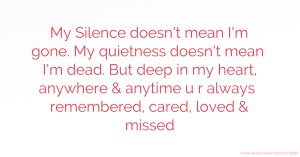 Pin it
Previous text message: "You are everything to me and you always will be from here on out"
Next text message: You will forever be in my heart, no matter what they say. I don't mind because I know love can't see, because of you I'm enjoying my blindness. You are my joy."