I haven't eaten in 12 hours and I have no desire to slip or take showers. I've ignored my many meals, and I think I'm starting to get the chills.
168
x

213
x

381
TIP KING
posted 7 years ago by TIP KING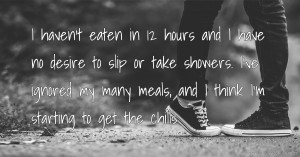 Pin it
Previous text message: "My buddies bet me that I wouldn't be able to start a conversation with the most beautiful girl in the bar. want to buy some drinks with their money?"
Next text message: True Love has a beginning and never ends, even when we brake up we still make up because our heart speaks the same language of an unending Love."