Love is through and through. I have no explanation why I love you, you make me feel that is only you, that I can love through and through, so love me too?
3
x

2
x

5
Nikki
posted 7 years ago by Nikki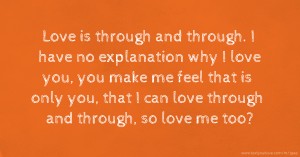 Pin it
Previous text message: "If you are not the one,why does your name keeps ringing in my hears,if u r not the one,why does my eyes keeps seeing your beautiful face,if you are not the one"
Next text message: Baeb a lav you cus Wenevah I'm wit youh all my sorrow's en fear of Lyf disspear.ur my world love u"