My lips want to kiss you, my eyes want to see you, my hands want to touch you... every part of me wants you, maybe because I was made just for you!
784
x

144
x

928
true love
posted 10 years ago by true love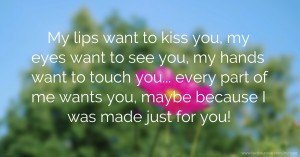 Pin it
Previous text message: "When i luk at u i cannot deny there is God coz only God could av created some1 as wonderful & beautiful as you."
Next text message: I know I was 3the but I know it going be last because your marring me"