Ever seens i set my eyes on you, my heart has been ambush.
10
x

2
x

12
afuwa
posted 7 years ago by afuwa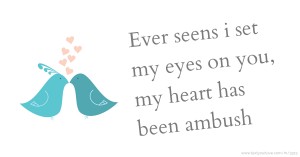 Pin it
Previous text message: "I thought love was a mirage of mind, an illusion, impossible to find. But then I met you I began to see that love love is real and exists in me."
Next text message: Without you I was nothing but when you came into my life you made me a real human being. Babe you are a life saver because you met me half dead but here I am now"