when you truly care for someone, their mistakes never change our feeling because its the mind that gets angry but the heart still cares.
21
x

6
x

27
gossip gurl xox
posted 7 years ago by gossip gurl xox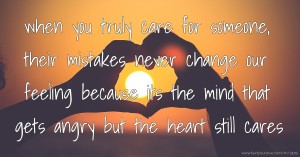 Pin it
Previous text message: "Real men stay faithful, they don't have time to look for another woman because they're too busy looking for new ways to love their own."
Next text message: Everyone has an addiction. Mine just happens to be you <3"