I dont need you to be perfect. Don't even impress me. Just love me truly. Be my smile when I frown, be my strenght when I'm weak, be my companion when I'm lonely.
136
x

31
x

167
penssuwa
posted 8 years ago by penssuwa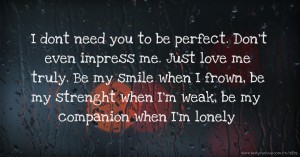 Pin it
Previous text message: "My head says NO!!!!!!!! My hear says YES!!!!!!!!! What will my lips say next!!!!!! ( Love u)"
Next text message: Even if I round the world a hundred times, my only place is with you"