If I could give you one thing in life, I would give you the ability to see yourself through my eyes. Only then would you realize how special you are to me.
851
x

176
x

1027
pinkii
posted 10 years ago by pinkii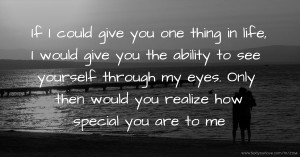 Pin it
Previous text message: "girl:how much do you love me boy:well go count the stars in the sky the sand on the beach and the hair on big foot and you still wont have a big enough number"
Next text message: I love you like a love song <3"