If i could hold out my heart,i will tattoo your name on it so that my blood cells will keep warm each time they pass by it..
19
x

8
x

27
Ndam bedias
posted 8 years ago by Ndam bedias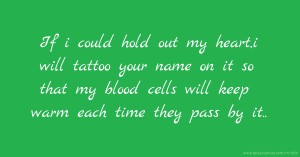 Pin it
Previous text message: "I bet you didn't know you where beautiful."
Next text message: I love you, with every beat of my heart, every second of the day. I think about you night and day. I miss you when I'm not with you. Well anyway I love you:)"