My heart is mine..but whenever I argue with it about you....it always take your side.....
162
x

26
x

188
dips
posted 7 years ago by dips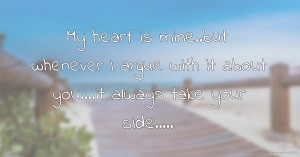 Pin it
Previous text message: "When you love someone , it's nothing when someone loves you it's something, when you love someone and they love you back it's everything."
Next text message: Love someone not because they give you what you need....!!but because they give you feeling you never thought you needed...."