Ever since you came into my life, it's like I'm in a different world. How I hope to be with you forever. I love you so much my angel. It's been hell without you.
65
x

14
x

79
Junior Geza
posted 10 years ago by Junior Geza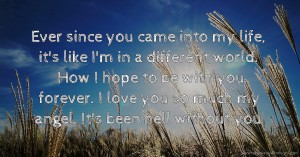 Pin it
Previous text message: "When I tell you I love you, I don't say it out of habit. I say it to remind you that you are the best thing that has ever happend to me"
Next text message: A woman is like a road; the more curves she has, the more dangerous she is #hide#"