Every time I read our texts, I miss you. Every time I see you, I miss your hug. Evey time you hug me, I miss your kiss. Omg I'm absolutely crazy about you!
63
x

11
x

74
Sephieee
posted 9 years ago by Sephieee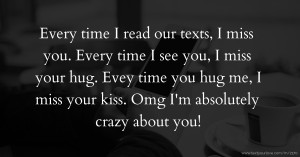 Pin it
Previous text message: "If loving you is wrong, I don't want to be right. If life means being with then for the first time in my life I regret ever being born. You're the best thing ever"
Next text message: You may be out of my sight, but not out of my heart. You may be out of my reach, but not out of my mind. I may mean nothing to you, but you'll always be special to me."