Friends are like mango's... you'll never know which is sweet and which is not. Well I'm lucky because I was able to find the sweetest mango in YOU!
4
x

2
x

6
true friend
posted 8 years ago by true friend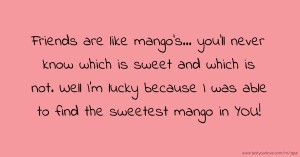 Pin it
Previous text message: "Boy: have you heard the new 'knock knock' joke? Girl: no, tell me Boy: okay, knock knock Girl: who's there? Boy: marry Girl: marry who? Boy: marry me"
Next text message: Close your eyes...Relax your body...stop breathing as long as you can...Now breath....I miss you as much as you missed the air.....!"