Lolly said to chocolate "Damn! We're sweet!" chocolate replied, "Well, you should see the person reading this message!"
15
x

5
x

20
Lipgloss4moi
posted 7 years ago by Lipgloss4moi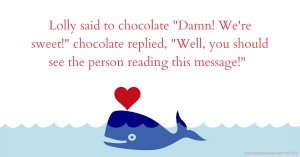 Pin it
Previous text message: "Do you have a band aid because i scraped my knee when i fell for you <3"
Next text message: If you think falling for me wud be a risk then take it and lets see if you can survive but i dnt eva see the day that i wont catch you when you fall"