I love my eyes when you look into them. I love my name when you say it. I love my heart when you touch it. I love my life when you are in it.
2371
x

359
x

2730
Nissa
posted 11 years ago by Nissa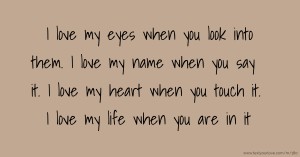 Pin it
Previous text message: "I searched for my heart but did not found anywhere. Then i remembered that i left my heart in your hand and now i am a soul in heaven..."
Next text message: When the time comes I can't smile anymore, don't worry about me, I know what to do. I'll just stare at one corner and think of you. No one else could make me ha"