Roses are red, Violets are blue. There are 7 billion in the world, But none compare to you.
320
x

51
x

371
KitKat
posted 10 years ago by KitKat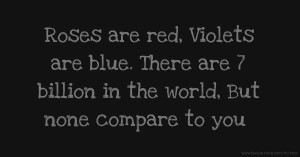 Pin it
Previous text message: "No measure in the world is enough to describe how much I love you but I'm certain I can show you each and every day if you just stay with me forever."
Next text message: if i had to choose between you and the world, id choose the world. because baby you are my world <3"