If i could reach up and grab a star for every time you made me smile,I would have the entire evening sky in palm of my hand
7
x

2
x

9
OfJames&Sha...
posted 9 years ago by OfJames&Shannon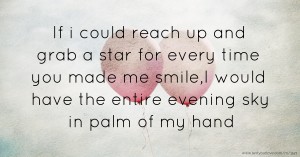 Pin it
Previous text message: "Why am I following you? Because someone told me to follow my dreams."
Next text message: I want to marry you but not bc I'm in love with you . Bc I know that u are the right person that well make me happy for the rest of my life"