Roses are red violets are blue I don't believe how much I love you, you are my world and so much more you are the person I truly adore.
28
x

5
x

33
Love poem
posted 10 years ago by Love poem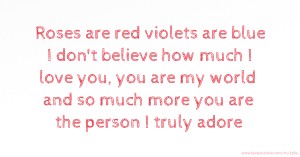 Pin it
Previous text message: "Boy: It's (enter current time)! Make a wish! Girl: ?? That doesn't work. Boy: Huh, I wished the cutest girl would send me a text, looks like it worked just fine"
Next text message: I want you, only you, everyday, forever <3"