If I never met you, I wouldn't like you. If I didn't like you I wouldn't love you. I'd I didn't love you I wouldn't miss you but I did I do and I will.
155
x

25
x

180
Ilovesammyjay14
posted 10 years ago by Ilovesammyjay14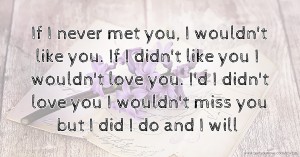 Pin it
Previous text message: "You're the reason I smile everyday, the reason my heart beats everyday, my courage to wake up everyday, you're my hero and you saved me. I will love you everyday"
Next text message: When I saw U I was afraid to meet U, when I met U I was afraid to kiss U, when I kissed U I was afraid to love U, now that I love U I'm afraid to lose U."