Michelle, you are amazing and incredible. Your eyes sparkle with starlight and you light up every day with your radiant soul. Thank you for being in my life.
4
x

0
x

4
Gideon
posted 2 years ago by Gideon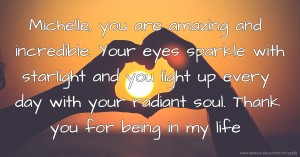 Pin it
Previous text message: "Ruff Ruff Ruff💔 You came into my life, & made my heart beat again...but only to break it for your revenge"
Next text message: Today was my last day of my breath but when I saw you, I asked God to give me two minutes to tell you that I love you!"