Hey girl that must be a keg in your pocket?.... No, well that's so strange cuz I just want to tap that ass!
3
x

1
x

4
Non-accepted
posted 2 years ago by Non-accepted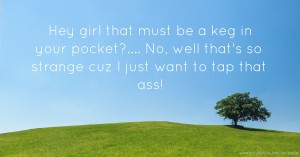 Pin it
Previous text message: "Marina, you are the most wonderful girl I ever met. I love you always and forever."
Next text message: Sitting Next To Your Ex In The Church Is Not The Problem, The Problem Is When The Pastor Say "Tell Your Neighbor It Is Not Yet Over - MrClayoun"