My life has always been a dark room till you walked in and switched the lights on..
4
x

1
x

5
djevansalvarez
posted 2 years ago by djevansalvarez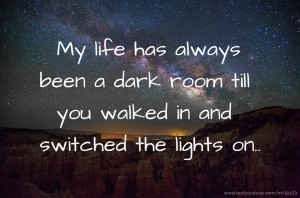 Pin it
Previous text message: "Boy: are your parents bakers? Girl: no, why? Boy: then how did they make a cutie pie like you...."
Next text message: if i gave you a chance to look at my heart, you would think its a mirror because you are the wallpaper.."