One thousand boxes of detergent and one thousand buckets of water cannot wash your love from my heart
3
x

0
x

3
yazeed & pa...
posted 67 days ago by yazeed & patima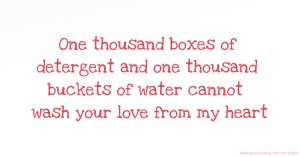 Pin it
Previous text message: "When I am sleeping, when I'm at work, when I'm eating. I'm thinking about you. I love you!!"
Next text message: Three monkeys escaped from the zoo. One was caught on the street, another one was caught in a bush, and the third one was caught reading this message"