Knock knock. Who's there? God. Why are you here god? Because I'm looking for my missing angel.
1
x

1
x

2
God
posted 172 days ago by God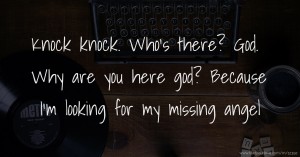 Pin it
Previous text message: "I long for you, as a companion of the same understanding, wisdom and love. I cry in the dark, yet stand tall in the dawn with the sureness it has brought."
Next text message: I wish to be an astronaut, so that I can go up to the sky and write your name on it so that the world will see how special you are to me."