I long for you, as a companion of the same understanding, wisdom and love. I cry in the dark, yet stand tall in the dawn with the sureness it has brought.
1
x

0
x

1
no name
posted 60 days ago by no name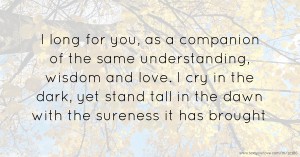 Pin it
Previous text message: "The awareness of your boundaries are seen in my eyes, heard in my voice and felt in my presence. I feel most complete with myself, yet long for you as companion"
Next text message: I master complexity, yet my needs are simple. I am your best friend, your truest love. I hear what you mean and not what you say."