In the silence I feel your voice it's in your heartbeat it's fast next to mine. Our eyes to shy to meet but I try to move but stop but you lean in and we kiss.
3
x

1
x

4
Laura Lorie
posted 3 years ago by Laura Lorie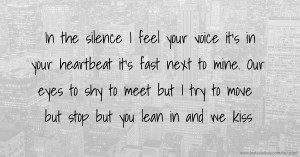 Pin it
Previous text message: "Loving you was the best thing for my heart, but when your gone my heart is bad. I can't breathe and it's hard to sleep at night with only thinking about you."
Next text message: Lovers today, Marriage Tomorrow, husband and wife forever."