If my kisses were raindrops then I want you girl 2 go outside when its raining and look up with you gorgeous eyes and kiss the sky as if you desire it.
3
x

1
x

4
raindrops
posted 365 days ago by raindrops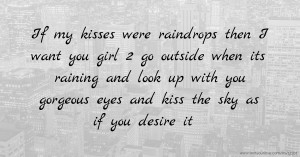 Pin it
Previous text message: "If for you, 5 minutes with me lasts forever, then girl, let me love you for another 5 min ;) ."
Next text message: Dad: I have the key to heaven. Son: where is heaven dad? Dad: Btween your mothers leg. Son: I think you shoud change it cuz the neighbor might hve a copy!"