I washed my shoes en they failed to dry do you know what I did,I boiled water en I poured into the shoes so that they can dry.
4
x

4
x

8
magalarobert08
posted 423 days ago by magalarobert08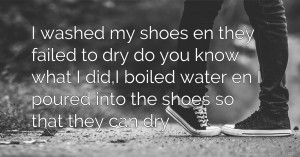 Pin it
Previous text message: "Boy — Did you ever smell upsexy @ school or is it just me? GIRL — what's that?BOY — what's what? GIRL —what's upsexy?BOY —nothing much HBU ; )"
Next text message: In Life You Will Meet Two Type Of People' 🖕Who Build You Up And✌️ Who Tear You Down But At The End You Will Thank Both. @MRCLAYOUN"