One day I may not be here, but I never want you to forget something. Even I leave, know that I loved you. And I will continue to do so.
0
x

0
x

0
lovehearts
posted 685 days ago by lovehearts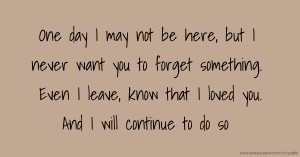 Pin it
Previous text message: "I love you so much princess and you are in my heart everyday and I will be always by your side and holding your hand and want to hug and kiss you and be yours"
Next text message: I love you. I will love you forever. I hope that maybe, someday, in another universe or life, we will fall in love again, and again, and again."