My road to success will be determined by you because you became part of my sight,thought,plans and future.Bieby never leave me this lovely paradise.
0
x

0
x

0
K Emma
posted 2 years ago by K Emma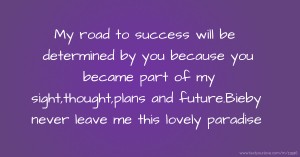 Pin it
Previous text message: "As it comes to night clear photos of yours attract my sight and only clear voice from you hni in my minds. In fact I need you."
Next text message: Love is something that you can't touch but you feel the chemistry between you and her..love thing that bring unknown person to another,"