am sorry for letting u go. am sorry that I thought I would be better off alone. I admit, I was wrong.
0
x

0
x

0
Lady Kemzi
posted 3 years ago by Lady Kemzi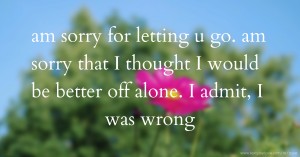 Pin it
Previous text message: "enough of d misunderstandings and regrets. just accept my apologies and free my heart from this pain. am deeply sorry for what I did.... please forgive me...."
Next text message: life can offer us so many things but the greatest and most special has been u. u where made just for me dear."