You make one move on me and my heart is frozen in love. Where it stays forever.. A deep hold on you with every part of my heart.
1
x

0
x

1
DoelovesRobby
posted 3 years ago by DoelovesRobby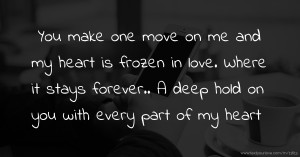 Pin it
Previous text message: "You are my heaven, hell, mind, body and soul. Your about as everything love is! I love so and feel so blessed."
Next text message: I love you means more than giving yourself to a person or putting them before you, it means that you have this feeling for them that can't be explained."