You are my heaven, hell, mind, body and soul. Your about as everything love is! I love so and feel so blessed.
0
x

0
x

0
DoelovesRobby
posted 3 years ago by DoelovesRobby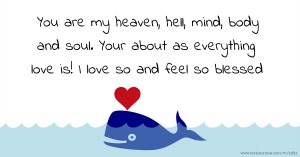 Pin it
Previous text message: "Seeing you by my side makes me whole,placing your head on my laps makes me go gaga and telling me you love me makes me go crazy...I miss you darling"
Next text message: You make one move on me and my heart is frozen in love. Where it stays forever.. A deep hold on you with every part of my heart."