My days can be so dark sometimes.When emptiness fills me. When I miss you so until you come back. The sun will rise more bright and beautiful. Whole and warm.
3
x

2
x

5
DoelovesRobby
posted 3 years ago by DoelovesRobby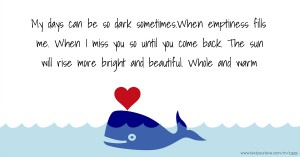 Pin it
Previous text message: "When your heart is weak. Let me touch it. My love will strengthen you."
Next text message: Touch me deep. My heart craves you! The tension and passion of your love."