Your love is my salvation. Without it. My life would crumple and be no more.
3
x

2
x

5
DoelovesRobby
posted 4 years ago by DoelovesRobby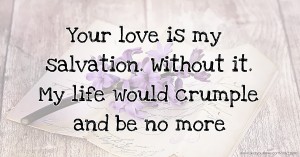 Pin it
Previous text message: "Your love proves I can survive any darkness and pain. For your love gives me angel wings!"
Next text message: Our love is a reflection of the night. It will sparkle and glisten like the stars and moon. As the darkness is like our world. It will try to collide."