Seeing you. Loving you. Touching you, beening with you. Pulls me into a whole new reality. A reality that is unlike any other.
1
x

1
x

2
DoelovesRobby
posted 4 years ago by DoelovesRobby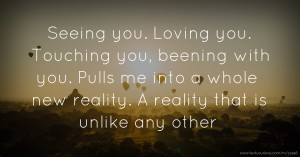 Pin it
Previous text message: "To be with you is like being with one of God's angels. The feeling is more anything and someone I can't live without!"
Next text message: Your love proves I can survive any darkness and pain. For your love gives me angel wings!"