Accept me as your lover and let us be lovers till we are satisfied with true love. I wanna love you for you.
5
x

2
x

7
Eddycee
posted 5 years ago by Eddycee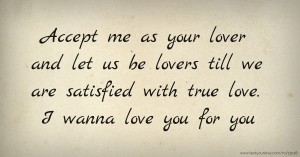 Pin it
Previous text message: "You stood my way to the past because your love and confidence in me points me to no where else but the future. So glad and greatly blessed that I met you!"
Next text message: Let me tell you this baby. I will do anything to get you on my side as my lover, my girlfriend and my babe. I want you to be my gal and my love. Don't say NO."